Capture New Leads with MailMunch
Form Integration Option for FireDrum Users
FireDrum and MailMunch has teamed together to help you create beautiful, interactive, and engaging website forms – coding knowledge not needed! Our latest integration allows you to create multiple opt-in forms, a/b test forms, popup forms, floating bar forms, and more with a few simple clicks.
Although there are other form options that you can choose from, we highly encourage people to give MailMunch a try. Their interface is clean and easy to navigate, making your form building experience easier. WIth the FireDrum integration, you don't have to worry about exporting or importing contacts between two platforms.
What is MailMunch?
MailMunch is a great lead generation tool (form builder) that's easy to configure and maintain over time. This form builder is mobile responsive (just like FireDrum's email newsletters), and designed to help you grow targeted lists through page-forms, form types, exit intent, and a/b testing. We recommend integrating MailMunch with your website and FireDrum account because of the flexibility and analytics that it provides. The creators of MailMunch work tirelessly to bring you the best and most modern tools possible.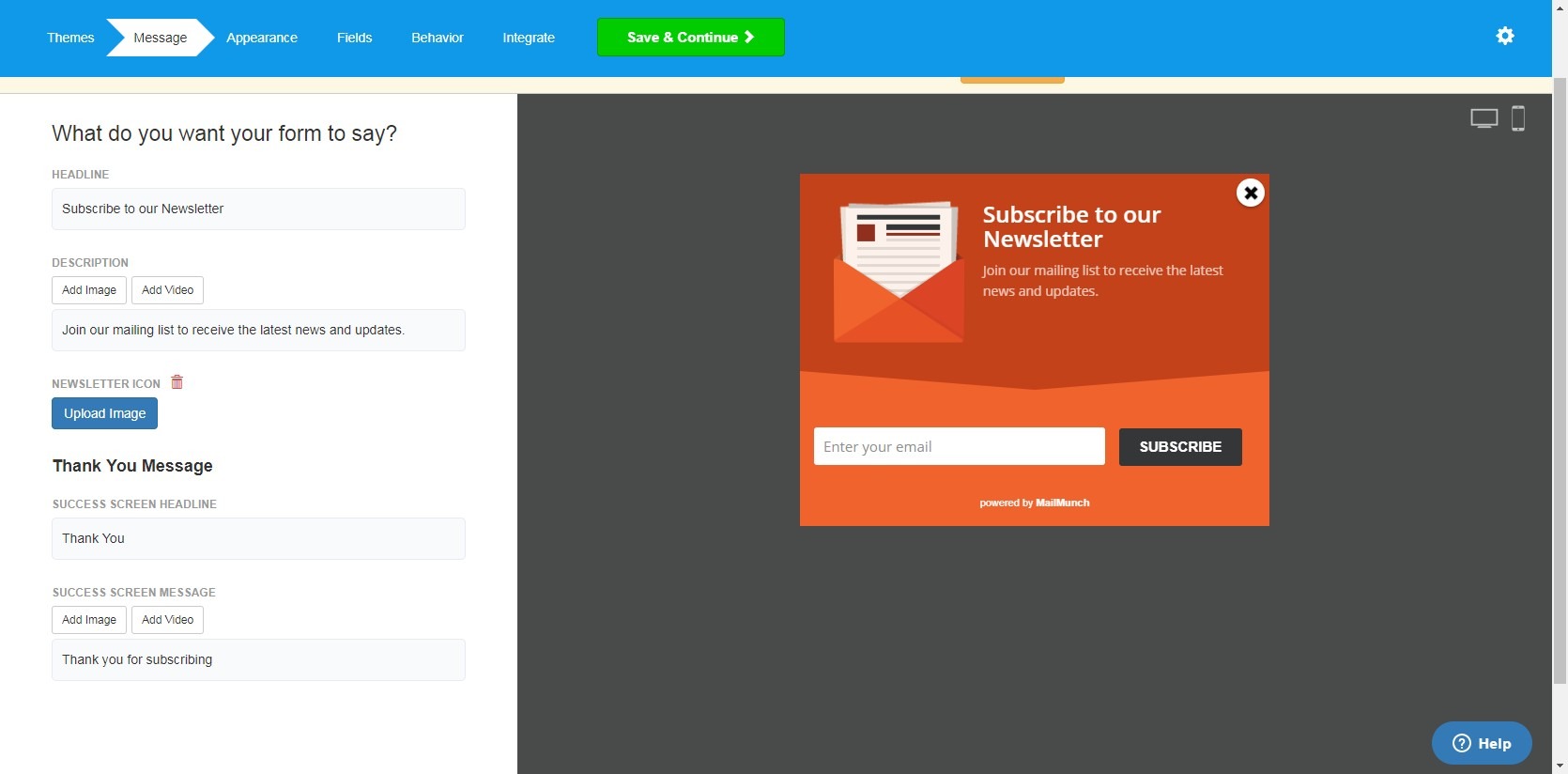 MailMunch Form Types
When you sign up for MailMunch, you'll gain access to various themes and form types. Test, choose and optimize a variety of forms for your website. Configure your account to direct signups to specific segmented lists.
If you're struggling to decide what form may be best for your website, reach out to our email support team or read out "Your Guide to Designing Popup Forms" blog. Our specialists will help analyze your metrics, choose the right form type, and even set up your account/forms.
Benefits of Using the MailMunch Integration
MailMunch offers useful tools and features that will help you increase subscribers, generate new leads, and nurture existing relationships. When you partner with FireDrum, you gain access to these features and our platform. Build awesome forms that convert and send emails that will encourage your customers to complete the purchase.
Tons of professionally designed forms/themes to get started. All forms are mobile responsive like FireDrum's email newsletters.
A/B testing functionality to test form positions, themes, and headlines. See what forms generate the most action and engagement.
Comprehensive analytics reports to review subscriber activity. These reports will provide valuable insight into your customer's interests and needs.
Ability to time when forms appear (one minute after page opening, exit intent, etc). Catch your subscriber's at the best time, always.
Full integration with FireDrum. Make the subscribe process easier by connecting your MailMunch account with your email marketing account. Segment subscribers based on list name.
Closing Note
Ready to make your first form with MailMunch? Create your FireDrum account, sign up for MailMunch and, and start designing your first form. Once you create the account, you'll be able to link your email marketing account and gain access to MailMunch's unique features. Watch your subscribers increase and your engagement rates grow when you partner with these two great platforms!