Email Marketing Form Builder – Hello Privy!
Optimize Privy's Form Builder to Grow your Email List
Design beautiful sign-up forms and popups with Privy, an awesome form integration that works seamlessly with FireDrum. This form integration will make your list building experience less stressful and more visual, using drag and drop technology similar to our email builder.
With Privy, you have access to unique form trigger and targeting features that will allow you to make a personalized impression with new visitors. Start building your subscriber list by partnering with Privy and FireDrum, today.
Get to Know Privy (Email Integration)
Privy is a powerful form building tool designed for marketers, entrepreneurs, and email specialists. Their tool is easy to use but the feature list is a little more complex than your standard platform. Like FireDrum, Privy uses drag and drop technology to create the WYSIWYG form. Configure all design settings, automation settings, and behavior directly in the campaign. Ater launch, access your account to view analytics and user behavior.
Privy's development and customer success team works together to bring you the most updated and world-class tools available.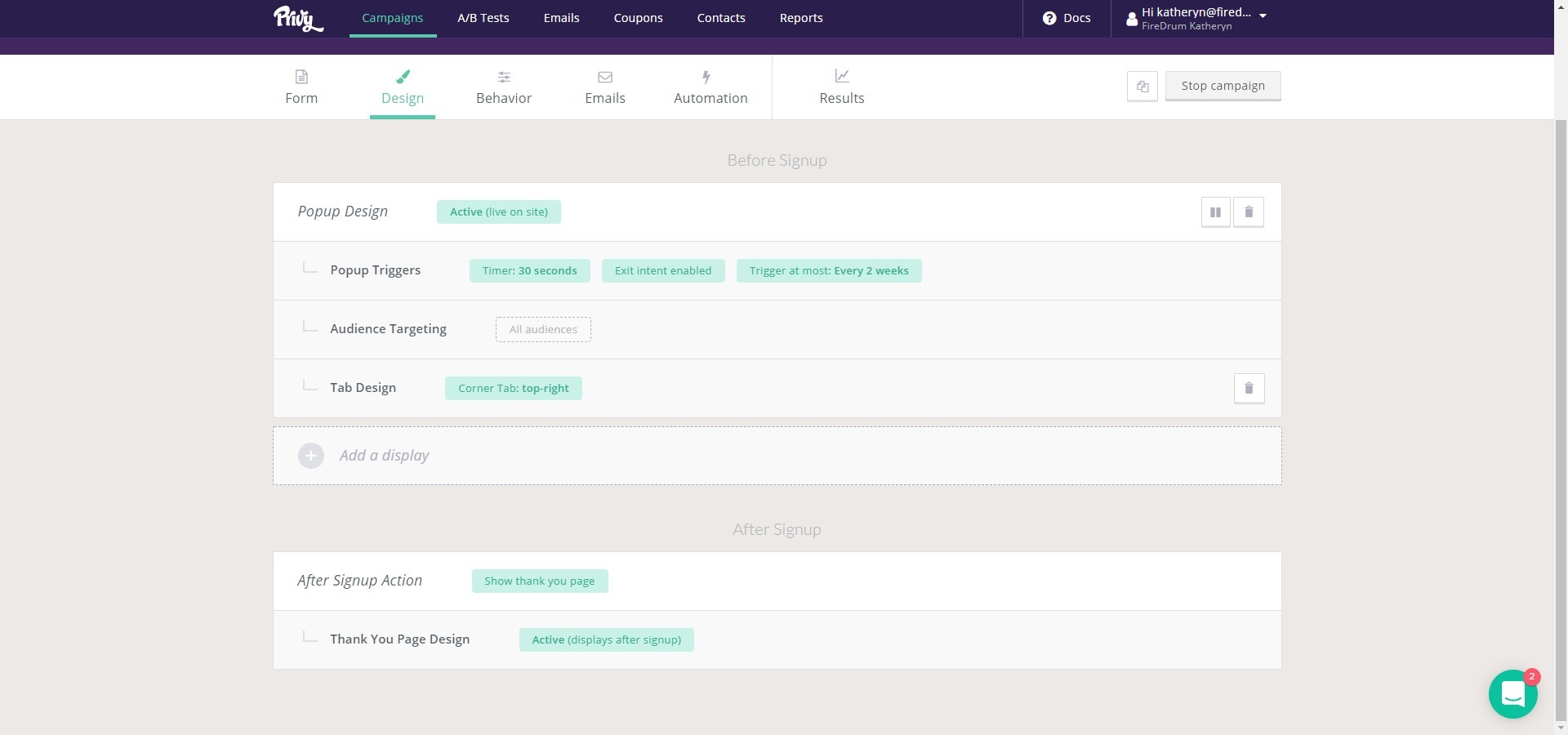 Explore Privy's Form Builder Types
Privy stores a variety of form types that you can try out and test. Similar to our other form builder integrations, Privy offers popup forms, top bar forms, slide in forms, landing page forms, and embedded forms. If you're looking for something more unique, like spin to win forms, tab forms, and drop down banners, Privy is the way to go!
These form types are meant to make a lasting impression on your customers. Configure your setting to have these forms appear at a specific time or on a specific trigger.
If you're not sure what form is best for you, connect with our email marketing team. We'll help guide you into making a profitable and engaging choice for your website visitors.
Benefits of Using Privy
Privy offers a variety of tools and features that will aid in your form building process. When you sign up for FireDrum, you'll gain the benefits of both drag and drop platforms. Build interactive forms that will bring your email subscriber list to the next level.
Access to hundreds of free form templates and layouts. Don't start from scratch! Use one of Privy's layouts to get you started.
Comprehensive user targeting and trigger functionality. These features are great if you want to alter when, where, and how you'd like your messages displayed. Deliver the right message to your customers at the right time with campaign triggers and audience targeting.
A/B testing capability so you can launch, test, and report on different layouts. Learn what forms engage more response.
Detailed reporting directly in the campaign. Monitor, track, and understand your user's behavior by checking Privy's "results" tab.
Closing Note
Get started with Privy, today! Once you create your FireDrum account, you can open and connect your Privy forms right away. Design your first form and configure all settings to reach your clients at the best time. With these two powerful platforms, you'll watch your contact list grow.